WELCOME TO PRESS EDUCATION, CLASS IS NOW IN SESSION.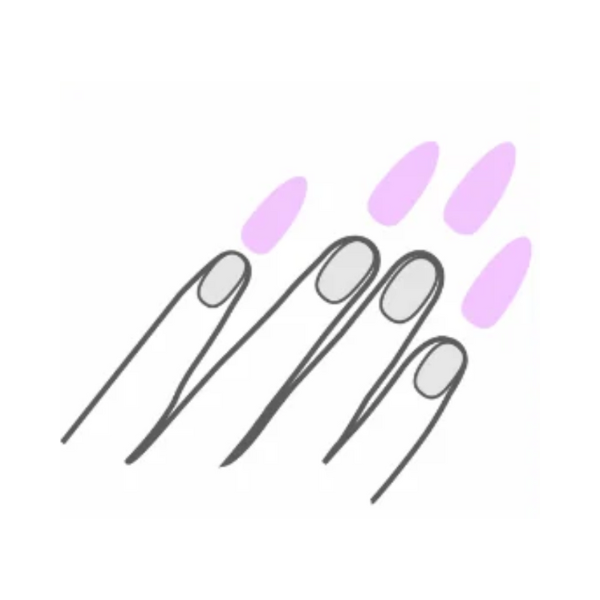 STEP #1: SIZE MATTERS
Before letting us jump into your nail beds, it's important to make sure you've found the right fit. Test out different nail sizes on each finger to find out which ones you're ready to do the deed with.
TIP - the correct size should cover your natural nail. If you're in-between sizes you can file down the press-on nail for that perfect fit.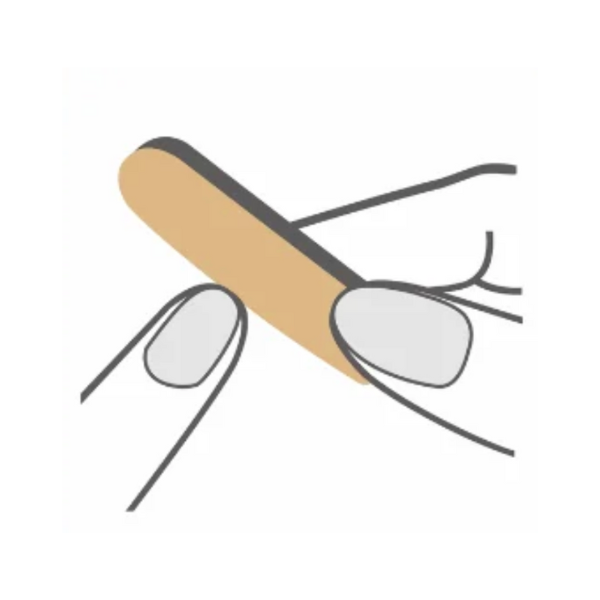 STEP #2: RUB ONE OUT
We want you to last during your Quickie so don't skip this key step.
Get prepped and ready for your Quickie by pressing back your cuticles with your fingers, nail file or orange wood stick. Next gently use the nail file to buff the top of your natural nails for texture and grip.

Now you're ready for some action!
STEP #3: GET WET
The key to a satisfying Quickie is making sure things are ready for application.
Apply a generous dot of liquid glue to the centre of your natural nail and using the tip of the glue tube, spread the glue over your entire nail.
After all, no one wants a premature application.
TIP - for semi-sheer gloss finishes/transparent bases add an extra dot of glue to the back of the press-on nail as well and use lots of pressure when applying the nail, this will help alleviate air bubbles!
STEP #4: PUT IT IN
Now it's time for the magic to happen!
Holding the tip (numbered side up!!) of the press-on nail, slide the base of the press-on slightly under your cuticle and then press down applying the nail from cuticle to tip.
STEP #5: BE HANDSY
We don't want no one minute man so make sure to apply firm pressure to each nail for 15-20 seconds to ensure a proper application that sticks. Don't be afraid to really feel that bad boy up!
SHOW US WHERE YOU LIKE TO HAVE A QUICKIE BY TAGGING @GETQUICKIES
| | DO | DON'T |
| --- | --- | --- |
| Read the instructional card that comes with your order | | |
| Use the numbers on the back of each nail to help find your sizing | | |
| Apply your nails right side up (number at the tip, not at the cuticle) | | |
| Use your travel pouch to wipe up any glue leakage instead of your fingers or paper towel | | |
| Take your extra nails, glue and nail file with you wherever you go in our reusable travel zip pouch | | |
not everyone loves their first time, just remember it gets better.
For a Quickie that lasts and lasts , make sure to follow ALL the steps of our signature application method above. Especially step #2, this is key for a satisfying and lasting Quickie.

If you want your Quickie to last but don't want to go too long, don't buff your entire natural nail. Instead, focus on just the centre of the nail for slightly less textxure/grip during the application process.

Want a quicker Quickie? Feel free to skip step #2 if you're wanting your Quickie to last only a few days but just don't be disappointed if they don't last as long as other Quickies.
"Absolutely love them! The short style is amazing for moms who still need to do all the kid things like change diapers and push car seat buttons. I can't recommend quickies enough."

"I am hooked. I didn't want to believe Quickes would be THIS good but they really are!"

"The design is so cute and the nails have lasted over a week without any issues! I got so many compliments on this design. Super impressed and highly recommend!"

"I've gotten so many compliments ! Quickies are the solution. Beautiful looking manicures for a fraction of the price! I highly recommend "

"I have been wearing quickies since July 2022 and would never get my nails done again! These always last at least 2 weeks and my natural nails are still perfect underneath."

"Literally took five minutes to put on and I've gotten so many compliments on how great my nails look. I keep telling everyone to buy from here now than spend money at a salon!"
Yes! Unlike a salon manicure you can get multiple wears out of your Quickies.

We just recommend gently filing off any excess glue before going for a second or third round.
Each set of Quickies includes 24 nails in 10 sizes (refer to our size guide), 1 Liquid Glue and 1 Mini Nail File.
Don't worry... we know size matters! Each set of Quickies includes 10 different sizes of press-on nails (24 pieces in total) so that you can find your right fit.
Because everyone's nail beds are beautifully unique we recommend reviewing our Size Guide.
Like anything, if used correctly, Quickies should not damage your natural nails!
Our glue is designed to dissolve over time so that the press-ons naturally loosen/lift. You should never struggle to remove our press-ons.

Please note that if you do try to forecefully remove your Quickies before they are loose damage may occur to your natural nails.
For the best quality Quickie we recommend leaving the nails as they are.
If you want to adjust the shape a bit a gentle file shouldn't sacrifice the quality of the press-on nail. We do not recommend cutting or clipping the nails as this can cause them to crack and sacrifice the integrity of a quality Quickie.
We want you to feel satisfied with your Quickie so we recommend following these steps and tips:
Use our signature application method to ensure your Quickies last
Apply your Quickies when you are not in a rush, especially if it's your first time
Apply each press-on base (cuticle) to tip to avoid pushing the liquid glue down creating spillage
Make sure your liquid glue tip is clean before putting the lid back on to prevent glueing your lid on
Store your extra nails, glue and file in your travel bag
Do not wipe any glue spillage with your fingers, use a piece of paper
Contact our team if you have any questions prior to your application
If your Quickies aren't lasting as long as you need to keep you satisfied, we feel confident we can fix that.

Please make sure you are carefully and closely following each step in our Press Eduction which is our tried and true application method that on average lasts 1-1.5 weeks.

If you lose a nail don't panic — buff off any nail glue and reapply using the same steps fromour signature application method.

If you have oily nail beds we recommend ensuring your nails are well buffed (Lesson 2) and really apply that pressure for the full 15 seconds (Lesson 5) to ensure your Quickies have time to bond
Please never force your Quickies off. Doing so could cause damage to your natural nails and we never want that!

Your Quickies will start to loosen when they are ready to be removed which is the ideal time to safely remove your press-ons without any damage. A great way to test this is by pushing down on the tip of your press-on to see if the base near the cuticle naturally lifts.

If you really want to remove your set of Quickies before they're ready to come off you can try soaking your nails in a mixture of warm water, dish detergent/soap and olive oil to start the dissolve of the glue.
If your Quickies are really hanging on and you need to get them of you can try soaking in acetone/nail polish remover. Please note this is not the intended/desired removal process and may sacrifice the quality of the nails.
If you are pregnant, think that you could be pregnant or breastfeeding we recommend consulting with your Doctor prior to any application of Quickies.
If you have an allergy or think that you could have an allergy to any of the ingredients in our products we recommend consulting with your Doctor prior to any application of Quickies.

Liquid Glue Ingredients: Ethyl Cyanoacrylate, Polymethyl, Methacrylate, BHA, CI 15850 Tocopherol, Panthenol, Retinyl Palmitate.
Yes! We do not believe in animal testing at Quickies and are proud to share that our products are 100% cruelty-free!